Four Big Luxury Design Trends For 2021
---
|
Earthy colours, warm curves and a genuine love for Planet Earth: luxury design trends for 2021 will be all about bringing nature back inside, for corporate clients and in the home too, says renowned designer Parinaz Nia.
Sustainable Solutions
There is a growing trend these days to jump on the eco-bandwagon and blindly follow a few basic principles of reducing environmental damage to our ecosystem. In my view, sustainability is not a passing trend but a necessity, and I put it into practice wherever possible, as do most forward-thinking customers.
Interior design in 2020 has seen a rise of more sustainable materials and technologies being rolled out into retail spaces, offices and in people's homes. To complement this, especially within the home, we're getting into the habit of high-end upcycling, repairing treasured objects in favour of buying new. This is such an easy premise and we don't need to lose the elegance or beauty in a design: just approach the reinvention with creativity and care.
There is a huge trend in the commercial, retail and consumer world for going back to nature, becoming more connected: such a simple concept but so very rewarding.
Talking Textures
The latest interiors news is all about using warm, earthy tones like deep browns, olive greens and raw yellow ochre, and this is a concept that neatly translates into the use of textures too. Interesting fabrics invite us to touch and explore, connecting us back to the present day and giving us talking points.
By using warm woods and tactile stone surfaces, we're inviting people to relax and enjoy their surroundings in a way that
makes them feel anchored and connected, living together in natural harmony.
Layering is a great approach to breaking out of flat, two-dimensional schemes. For a recent project in a south-east Asian
restaurant, I incorporated rattan-effect wallpaper with heavy botanic prints and simple wicker furniture, an important nod towards the origin of the food as well as the chance to surround diners with natural fabrics and tones. Building a design story with layered textures lends interest to a space.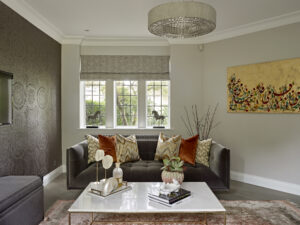 Cool Curves
Curves are a growing trend as they help engender an organic, human feel; it's hard not to fall in love with a curvy line, when it's such a very human shape. In the same way that organic layering is bringing a natural slant to our use of textures, so it is with shape and form.
When I'm designing I always consider the emotional experience of being within a space: when we walk into a room, the feelings we get from the experience are so important.
In our Portman Square project I was designing the huge lobby, a vast atrium that needed a warm approach, so we came up with the idea of designing a bespoke ring-shaped gold light fitting. This giant sculpture would be overlooked by two internal glass elevators: whenever a person stepped into one of the lifts they would see this beautiful curvy piece from many different
angles.
The finished fitting looks amazing and dramatic but it's had a humane effect too – by using soft curves in that wide open space, the lobby has been given an essential social warmth, affording its workers a special connective experience whenever they walk.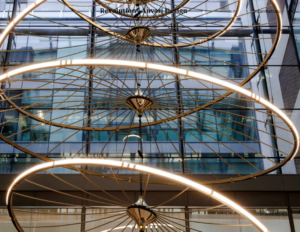 Beautiful Biophilia
We live in a tech-centric age and spend all of our time looking at screens, and far less time outside. In fact, research shows that 90 per cent of our time is spent inside. Outside time is increasingly important to us and biophilic design (a term broadly denoting a love of nature) addresses this so well; it is being heralded as one of the most popular choices for themes in modern offices.
Gone is the sad little potted office plant sitting alone on a shelf: these days designers are being tasked with filling interiors with green, in the form of living walls, natural light and spacious communal areas.
I always have flowers dotted about – my favourite is a stunning purple butterfly plant from Iran given to me by my mother. I have grown it for years and I love giving clients a cutting now and then. It's such a joyous plant to look at, and to share.
We can't undo the damage we have done to our planet overnight, but the luxury design trends for 2021 help ensure we're bringing the best products into our homes, from reducing non-renewable materials, shifting towards 'greener' brands and investing in products that don't cost so much environmentally.
Parinaz Nia creates high-end design solutions for clients in the commercial and residential sectors, both in the
UK and abroad, offering a bespoke service for those seeking a unique, warm, creative approach. Get in contact with Parinaz Nia by visiting her website here.
This article was featured in The Luxury Property Collections 2020/21 Spring Edition Lookbook. You can download your copy here