Get an edge buying a ski home in the Alps
---
|
Breath-taking scenery, a healthy lifestyle and access to exhilarating mountain sports help to make ski homes in Europe some of the most desirable properties in the world.
And with the arrival of Covid-19, the attraction of spending time in a mountain resort has got even stronger, with more people craving clean air, uncrowded natural space and access to an outdoorsy lifestyle. This was evident over the summer when parts of the Alps enjoyed their busiest summer months ever. Resorts in the Haute Savoie region of the French Alps recorded unprecedented occupancy levels of 80 per cent during July and August 2020, compared with more typical summer levels of around 40 per cent.
So why not make 2021 the year you buy yourself a ski home in Europe and start enjoying the many benefits that would come with it. Consider these five points before you get started.
Where in the Alps?

Europe's premium ski resorts are concentrated in the French and Swiss Alps, with Italy and Austria providing a few alternatives. The most expensive resort by price currently is Gstaad in Switzerland, where typical upscale four-bedroom chalets cost €32,900 per square metre, according to Knight Frank's 2021 Ski Property Index. Courchevel 1850 in France is second (€26,700/ sq m), followed by Verbier (€21,900/ sq m) in Switzerland.
The remainder of the top 20 includes Zermatt, St Moritz, Villars-sur-Ollon, Klosters, Davos and Crans-Montana in Switzerland, and Val d'Isère, Courchevel (1650 and 1550), Mèribel, Megève and Chamonix in France.
Italy's upmarket resorts include Cortina d'Ampezzo in the Dolomites and Courmayeur in Aosta Valley. Meanwhile, Lech and Kitzbühel are the jewels in the crown of Austria's ski scene.
Dual seasonality
Skiing and other winter sports are the immediate attraction of an Alpine home, but most resorts have just as much to offer active types outside of the winter months. From outdoorsy pursuits, such as mountain-biking, climbing, rafting, canyoning and trekking, to enjoying the world-class leisure amenities available in most high profile resorts, such as golf, tennis, aqua parks, indoor sports facilities and pools, health and fitness centres, there are so many ways to combine having fun with staying fit all-year round.
Chamonix, which is benefiting from an ongoing multi-million-euro investment plan, is the hub of summer activities in the French Alps and is setting a great example – these days it welcomes as many tourists in the summer months as it does in the winter.
Consider these things when picking your resort. Equally, check the length of a typical winter season – those at higher altitudes will be longer, while access to a glacier could offer summer skiing too.
Consider a mortgage
Much of Europe is currently blessed with very cheap borrowing, thanks to the ECB's Euribor – to which most banks in the EU peg lending rates – being in negative territory. Tough economic conditions mean this is unlikely to change anytime soon.
In France, where rates are lingering at historic lows, even non-resident buyers can expect to benefit from rates fixed below two per cent for 10 or 20 year terms, requiring a 20-30 per cent deposit. Similarly, interest rates in Switzerland are being held in negative territory (-0.75 per cent).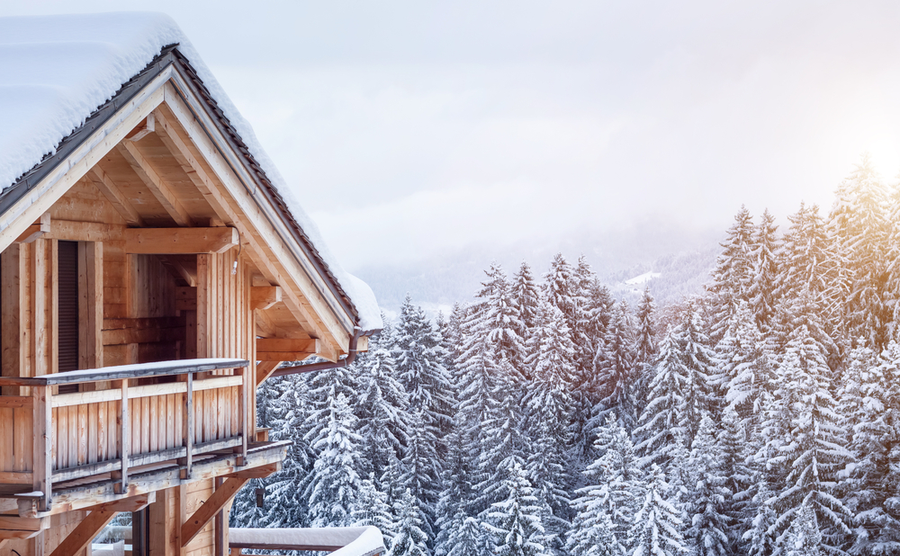 For this reason, opting for a mortgage on a ski home could make financial sense even for prospective cash buyers. And given the strength of the euro and Swiss franc, this option could be especially attractive to international purchasers with funds in a foreign currency, ie Sterling or dollars, who would prefer not to be exposed to today's exchange rates for the full value of their purchase.
Bear in mind, securing the best deals may become slightly trickier for UK buyers post-Brexit – a good reason to use an experienced mortgage broker.
"Opting for a mortgage on a ski home could make financial sense even for prospective cash buyers."
Luxury après-ski
Europe's top resorts don't just offer world-class skiing but plenty of fun once you've hung up your skis for the day. Any resort with serious cachet also offers exclusive après-ski venues, from cosy cocktail and wine bars to pumping terraces with live DJ music. Val d'Isère and Verbier in particular are known for their choice of lively night spots.
A choice of gourmet restaurants is another prerequisite, with Courchevel a trailblazer for fine dining at altitude. The French resort, which is a collection of four villages, boasts a staggering 12 Michelin stars spread across seven restaurants. Across the border, Zermatt is regarded as the gastro centre of the Swiss Alps, with four Michelin star restaurants confirmed in 2020.
For the full package, a luxury resort should offer world-class shopping, with designer galleries and boutiques for leading fashion brands.
Future home?
Traditionally geared towards the holiday home market, Europe's leading resorts are seeing increasing numbers of foreign owners spending longer stints at their ski home, even becoming resident there. This trend has been accelerated by Covid-19, as more people, including professionals with young families, opt to benefit from the cleaner, healthier lifestyle of the mountains, where they can create their own bubbles.
Most destinations with established international profiles are already set up to cater for year-round living. Complementing their skiing and leisure amenities, they also offer world-class healthcare facilities, international schools, excellent broadband and telecommunications infrastructure.
There could also be financial advantages to becoming resident in your ski home. Switzerland's tax system has attractive incentives for wealthy investors who become resident there. A popular option for foreigners in Valais, which includes Verbier, is the Lump Sum Taxation scheme, which allows residents to be taxed on their annual living expenditure rather than worldwide income or assets.
Equally, there are attractive schemes for foreigners wishing to set up a company in order to register and work as self-employed.