Reach new heights with ski rentals!
---
|
One the most lettable types of second home, a carefully chosen ski chalet should generate a reliable stream of income for you. Give yourself the edge with these five pointers…
Location, location, location
For maximum rental income, choose your resort carefully. Key things to consider include access to a large skiing area with good lift infrastructure and lots of diverse runs, ideally linked to other resorts, combined with a long skiing season (early December to May – longer if there is a glacier). Higher resorts with slopes between 2,000m-3,500m and plentiful north-facing runs have the most reliable snow. It doesn't matter if the resort centre, with its amenities and accommodation, is below 2,000m. Access is equally important, so try not to be longer than a two-and-a-half-hour transfer from an international airport.
To cater for the premium end of the market, choose a resort with its own heliport or a smaller airport for private jets nearby. Resorts with international cachet tend to tick most or all of these boxes. Examples include Courchevel, Megève, Chamonix and Val d'Isère in France, and Gstaad, Verbier, Zermatt and St Moritz in Switzerland.
Dual seasonality
Your annual occupancy will be boosted if you can let your property outside of the winter months too, so choose a resort with established dual seasonality. Chamonix, for example, is a hub for all types of outdoor activities, from climbing to mountain-biking, and has a busy towncentre, hence it now welcomes as many visitors in the summer months as the winter. World-class shopping and gourmet restaurants that are open all-year also give a resort extra cachet. And a quality golf course always adds to year-round appeal.
Favourite features
These days, the finest chalets are geared towards corporate entertaining as much as luxury family holidays or groups of friends looking for luxurious accommodation. Which means facilities must match or surpass those of any five-star hotel. To compete with the best, your chalet should boast all or most of the following: a large panoramic terrace/balcony with hot tub, indoor swimming pool, fitness studio/ gym, steam/ massage rooms, bar/ games room with pool/snooker, cinema room, walk-in wine cave. Even a climbing wall is not unheard of now! Needless to say, the kitchen, living areas and multiple en-suite double bedrooms should be fully kitted out to a high 'designer' spec, with lots of character including feature open fires/ burners. In terms of services, your appointed management firm or operator will take care of running the property and the extra services offered to paying guests.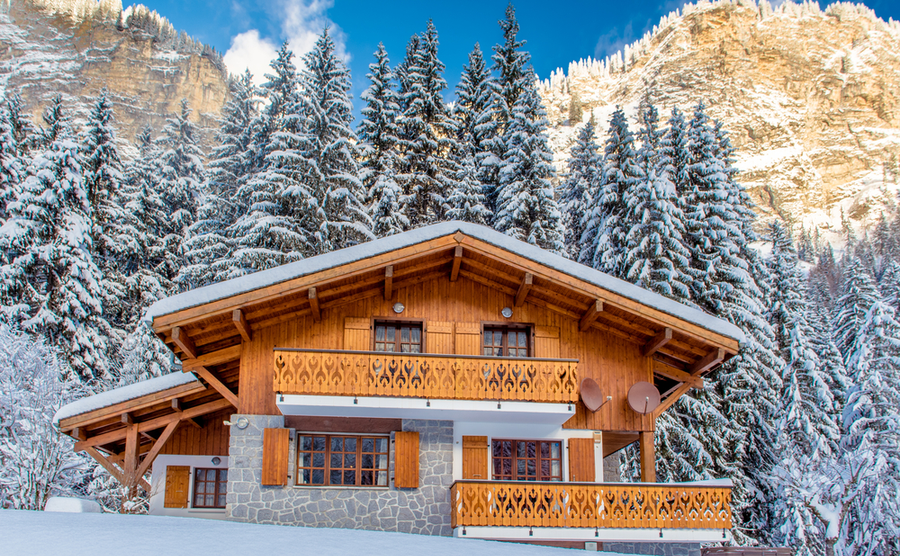 Management matters
For hassle-free ownership and rental income, you'll need to appoint an established management firm or chalet operator. Most operators will customise their service to suit your precise requirements, in terms of personal use and expected financial targets. Talk to a few before hiring one, even ask them to provide a no-obligation rental simulation that includes typical costs and commission for you.
At the start of the season your operator will ask you to confirm any weeks you wish to reserve for your own use. It is then down to them to fill the chalet for the rest of the season/year, paying you rental income minus any commission or extra costs at the end of the season. Good operators will target guests for your property carefully, drawing on various resources, including premium international travel firms. It is better in the long-term to have ten weeks' worth of clients paying a premium for your chalet than to rent it for 14 weeks at discounted prices to clients that aren't entirely suitable.
Note too, rental agreements are not set in stone, with some operators operating a profit share type of agreement, so always discuss options with them.
"Ask chalet operators to provide a no-obligation rental simulation that includes typical costs and commission for you."
Once on their books, operators become wholly responsible for looking after guests and your property. As such, they will allocate their own staff for the whole winter, as well as oversee all booking administration, property maintenance and changeovers, along with offering pre-arrival, catering and concierge services. Operators don't offer all properties with the same luxury, fully-catered basis – some are available on as accommodation only, or with bed-and-breakfast. This will affect the rental return they generate for their owners.
Don't forget about your financial obligations as a landlord. You could be liable for local income tax on your net rental income, after deduction of the allowances applied under the relevant tax regime. You should also declare your foreign rental to the HMRC in the UK (if UK resident). However, double taxation treaties between the two relevant countries usually means you don't pay the same tax twice.
Mortgage & currency
Today's historically low interest rates in the Eurozone and also Switzerland make buying a ski chalet with a local mortgage especially attractive. In which, give some thought to the currency in which you will receive rental income – it usually makes sense to receive it in the same currency as your mortgage. If you do need to make transfers to service your repayments, or simply top up your foreign bank account, be sure to use currency specialist Smart Currency Exchange.